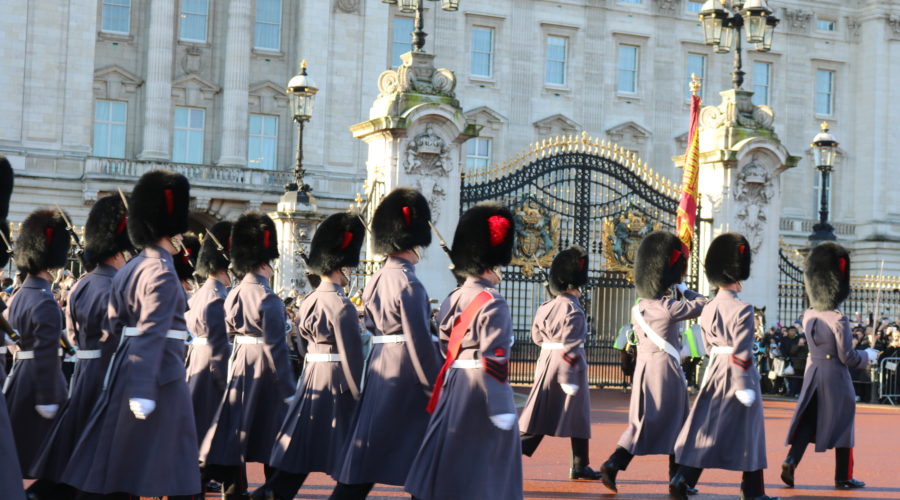 Kid Approved Things to do in London: Changing of the Guard
Are you planning a trip to London? Are you looking for kid approved activities to enjoy with your family? Well we had a great time at the Changing of the Guard. Our 11 year old daughter, Vaughn, enjoyed it so much that she wanted to write a blog and create a video of the experience!! Take a look at her blog and video below, we hope you enjoy it!
Changing of the Guard by Vaughn Boyd
Clip clop, I hear the hooves of horses trotting down the square in front of Buckingham Palace.  I rushed across Queen Victoria Memorial to see the Household Cavalry Guards passing by us.  Shortly after, you could hear drums playing as the new guards were marching towards the square in their magnificent uniforms. The Changing of the Guards has been around since the seventeenth century and is a well known tradition in London.
As I watched the Guard march by, I stared in awe of the bearskin hat that each member wears. The bearskin hat is eighteen inches tall, weighs about one and a half pounds, and is made out of Canadian black bear fur. The guard regiment is also accompanied by a marching band that plays music as they march in and out of the palace gates. We were lucky enough to also experience delightful Christmas music that they play during the holiday season ceremonies.
Changing of the Guards is a tradition of trading the new Guards for the old and is a wonderful thing to see. Next time you are in London, I strongly recommend going to see the Changing of the Guards because I thoroughly enjoyed it and think you will, too.
I hope you enjoy our video…
Pointers for Changing of the Guard
The Changing of the Guard happens at 11 AM everyday during the warmer months and 11 AM every other day during the winter.  You can check the schedules here: Changing of the Guard Schedule
Get there early (at least 10 AM) if an up front view is important to you.  The actual Guard Changing occurs inside the gates of Buckingham Palace and you will really only be able to see what happens inside if you are on the front row along the fence.
Don't worry if you do not get there early, there is plenty to see outside of the gates. We got there about 10:30 then moved around to get great views of the Guard coming and going from the palace which is really fun to see.
Moving around actually makes it easier with kids, our 8 year old would have hated it if we would have gotten there at 10 AM and stood in one place along the fence for 2 hours for about 20 minutes of action.